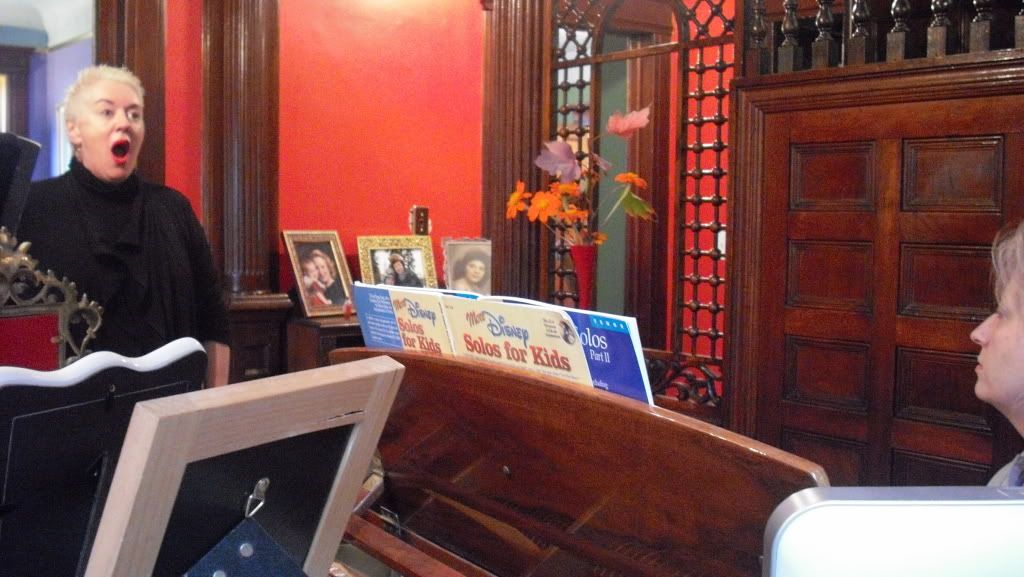 Mia's philosophy of teaching is based on the pedagogy of her late voice teacher, Walter Blazer, who was a Professor of Voice at Manhattan School of Music for many years.  Professor Blazer's teaching was based on the vocal research of William Vennard.   The technique emphasizes the importance of diaphragmatic support (incorporating complementary muscles) of the vocal instrument.  A deeply dropped jaw encourages freedom of sound and production.  Exercises encompass the three registers of the voice:  chest (or "belt"), middle (or "blended") and upper (or "head").  Singers should be able to comfortably and healthfully "belt" while also including "legit" music (standards, Broadway, classical, etc.) in one's repertoire.  The goal is for one to be able to comfortably perform ANY style of music (from pop to opera) with a solid, healthy technique, full range and projection, with appropriate interpretation and diction.
All lessons are recorded on a Zoom H4n digital recording device.  Recordings are then sent to student via email as an MP3 download or burned to a CD.  Students are encouraged to practice along with one's lesson recordings--progress goes twice as fast with this reinforcement.  HD video recording is also available for purposes of college or competition applications.

Another big factor in learning is laughter!!  We try not to take ourselves TOO seriously.
Please keep in mind  that Mia is a busy performer as well as a teacher.  While she is very happy to be flexible with students - she does not require payment in advance except for the first lesson - her schedule can change from week-to-week depending upon her rehearsal/performance schedule.  She will do everything possible to fit you into a time slot during the course of a week.  Your flexibility is greatly appreciated!!
POLICY ON TEACHING CHILDREN:  There are voice teachers who feel that formal vocal instruction should not begin until the voice has "matured" (usually following puberty).  However, from a practical standpoint, there are many instances where younger children are eligible and called upon to audition for choirs, theatrical productions and even opera choruses.  For example, I have had a number of children involved in productions of Annie.  The Metropolitan Opera Children's Chorus will audition children as young as the age of seven.  As a teacher (and a parent), I have learned that children can vary widely in their readiness for formal vocal instruction.  I have had six-year-olds who are quite ready to focus, and I have had teenagers who give attitude after 15 minutes!  For this reason, each child is evaluated on a case-by-case basis.  An excellent foundation in vocal technique will not be harmful to the child if appropriate repertoire is selected.